Rongotai College had just under 150 students compete in competitions across 2023 Tournament Week.
The week was a real success for our senior teams, with some great results in Hockey, Football and Basketball.
In Hockey, a mature performance from the Rongotai College 1st XI has led to our first India Shield title in 30 years! An exciting game finished 2-2 (with King's College equalising with 4 seconds remaining!), so the game went to a shootout, with Rongotai coming out on top 3-2! Liam Patel scored the decisive goal, but Aston Burwell-Garratt in goal was instrumental (as he had been across the week), denying Kings College 4 times in the shootout and making several crucial saves during the game. Congratulations on your victory and a great week!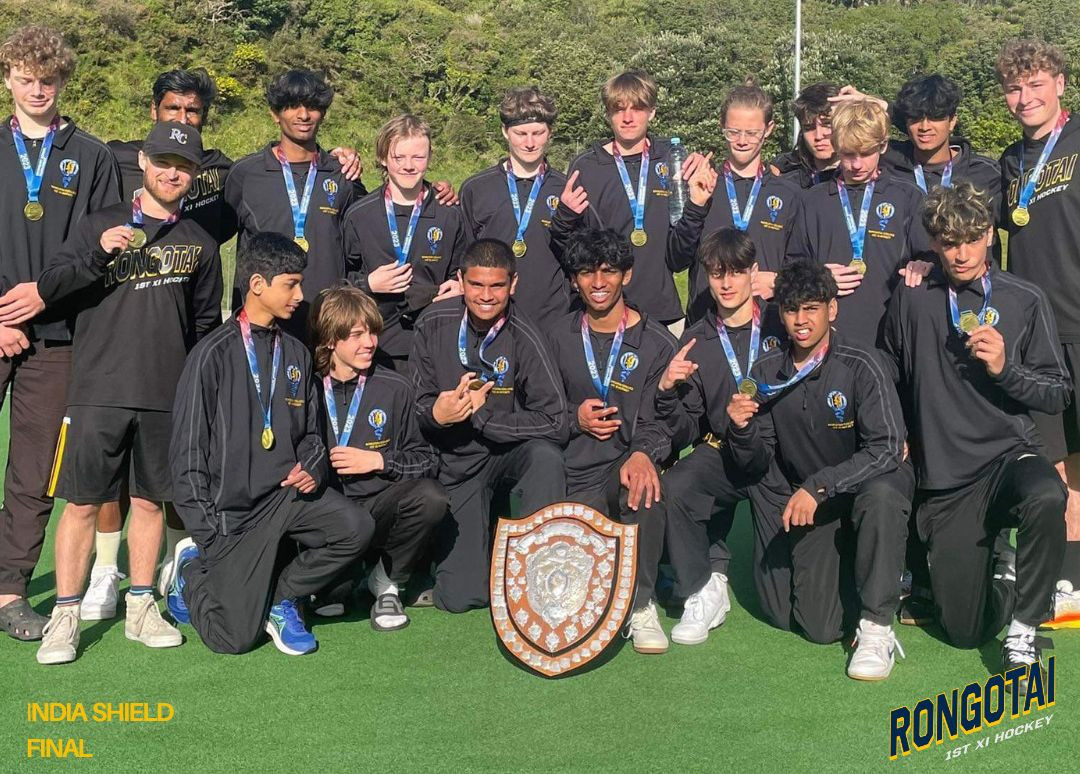 In Football, the Rongotai College 1st XI lost their final in the Trident Tournament played in Whanganui, losing to a solitary late goal by ACG Strathallan. Commiserations to the team, who gave it everything over the week and just came up short in the final in what was a hard-fought, even match. Over the course of the week, they won 4, drew 1 and lost the solitary match.
In Basketball, our Senior A team performed above expectations, finishing 8th in the 'AA' Regional Qualifying tournament played in Napier. The team did well to qualify for the quarter-finals, where they lost to eventual winners St Patrick's College Silverstream. Our Junior Basketball team also travelled to Napier for Regionals and progressed through pool play finishing third in their pool with three wins from five games. In the quarter finals they took on St Pat's Silverstream and went down 57-96. The bounced back with a strong 94- 82 win over Napier Boys' High to finish in fifth place.
Our Senior Badminton team competed in the Division 2 Nationals at Te Rauparaha Arena. The team of Zac Thomson, Quan Le, Edward Chhorn and Jayden Seng had a good week and won a number of singles matches but were let down in doubles play to finish a solid 15th. Zac Thomson was awarded the 'Best Sportsmanship Award' as he consistently displayed the schools B.E.S.T values
Three Rugby teams also competed in tournaments over the week - the U14s and the U15s while an U85kg team competed in Nationals in Wellington. The U14s finished with two wins and a loss developing. The U15s had a very tough week playing in Division 1 against some of NZ Secondary Schools rugby powerhouse schools, finishing in 12th place. Finally, the U85kg team had mixed results with losses to Silverstream, New Plymouth boys' and Sacred Heart, a win over Onslow College and a draw with Wellington College to finish seventh out of 20 schools - great work team in this new competition
Thanks to all our coaches and managers who volunteered their time to create these great experiences for our teams over Tournament Week.